2003–present
Peter Duniecki moved back from London to Vienna at the end of 2002. Since then he has been working for several design agencies, before founding his own Designstudio PETER DUNIECKI DESIGN in 2006.
His work covers poster-, book- & editorial design, annual reports, exhibitions, signage systems, corporate- & brand design, packaging design and web-/screen design.
1996–2002
Between 1996 and 2002 he has been working for various leading design agencies, in London and Chicago. Companies he has worked for include PI Design Int., Siebert Head Ltd., Source Inc., Springetts Associates, Ziggurat Brand Consultants as well as the European Bank for Reconstruction and Development (Design and Print Department). Among his clients were Migros, Electrolux, Häagen-Dazs, McVities, Kraft Jacobs Suchard, Pepsi-Cola International, British American Tabacco, Safeway, Cadbury's, Derwent Valley Foods (Phileas Fogg), Van den Bergh Foods.
His role has included interpreting client briefs or originating concepts where necessary; working on graphical conceptual ideas and taking them through to finished art; overseeing and scheduling all artwork at all levels, ensuring all the work is produced with both quality and efficiency in mind. Commissioning and briefing freelance Finished Artists, reproduction houses and printers.
Further responsibilities have included elements of account management, visiting clients for first initial design brief to give advice and guidance on printability and correctly built artwork as well as timing and costs.


1992–1996
Full time at the Agency Die Hager (Advertising Agency Inc. and Partner of LOWE Int. – today integrated in TBWA, Vienna)
In this period of time he got familiar with the whole range of hard- & software of a modern Production-Studio as Imagesetter, Matchprint, Digital Proofer, Flat- and Drumscanner and so on.

1991–1992
After the final exam he was working as a Freelance artist at the Designstudio Hutter (basic training) as well as for the weekly newspaper Salto (former Volksstimme) on weekends.
Peter Duniecki was born and grown up in Vienna, Austria.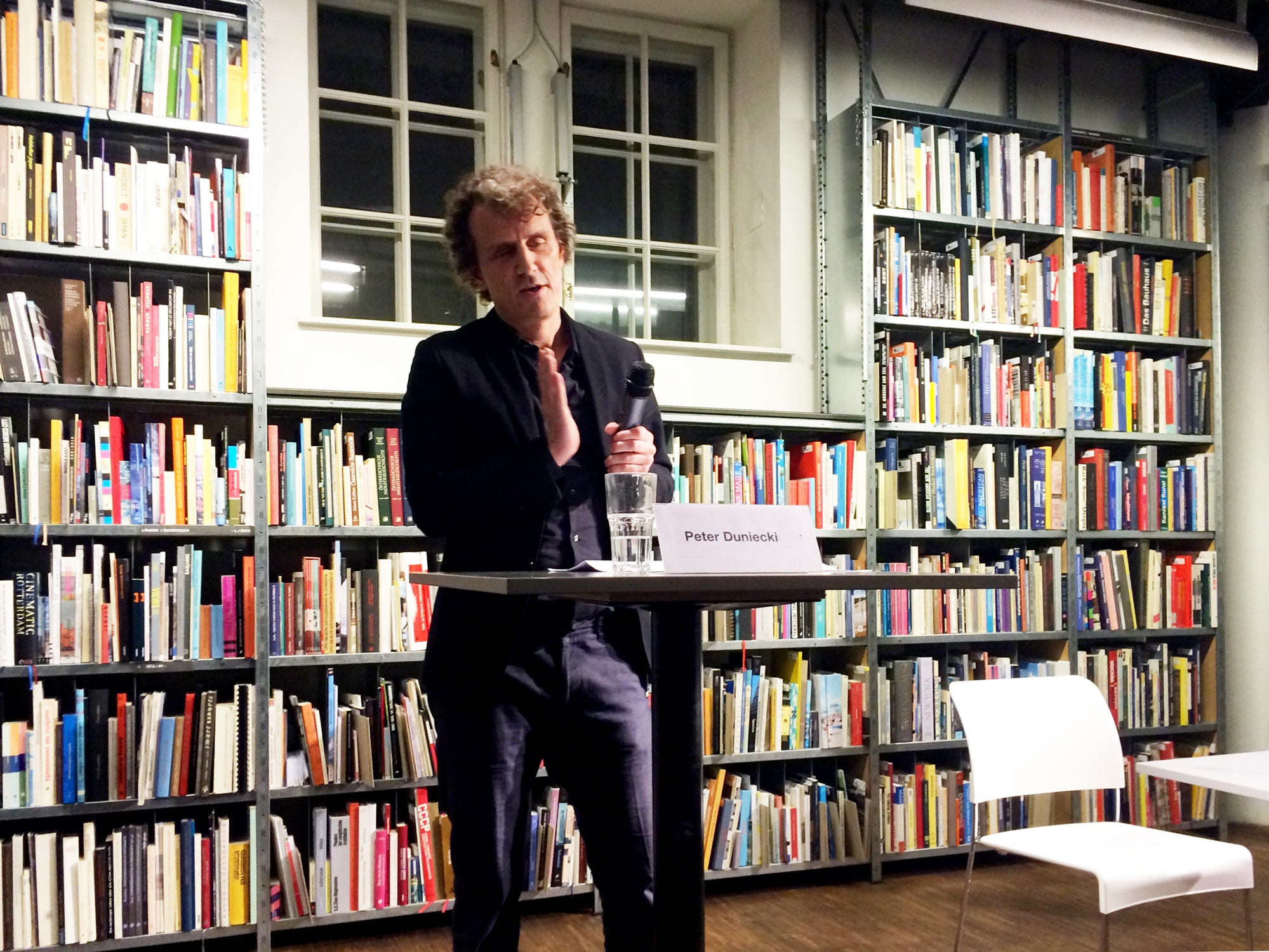 Peter Duniecki im Architekturzentrum Wien, 2015